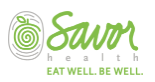 Savor Health is specifically designed for the nutritional challenges facing people undergoing cancer treatment. They provide home delivery of healthy, nutritious meals for both patients and caregivers.
The company also shares information that is safe and based on scientific studies as well as provide access to experienced oncology nutrition specialists who hold the Certified Specialist in Oncology  ("CSO") credential.
Makes a great gift, too!